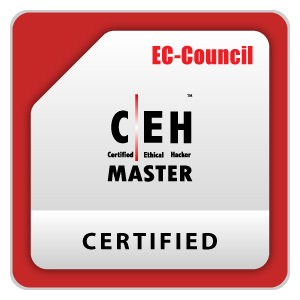 Verified
Certification Details:
A certified CEH (Master) is an expert in his field, who understands and knows how to look for weaknesses and vulnerabilities in target systems and uses the same knowledge and tools as a malicious hacker, he is also well versed with ethical hacking techniques and has demonstrated the same when tested in an environment that mimics a real corporate network through the use of live virtual machines, networks, and applications, designed to test your skills.
| Certification Number | Certification Name | Issue Date | Expiry Date | Issued By |
| --- | --- | --- | --- | --- |
| ECC1895720346 | Certified Ethical Hacker (Master) | August 26, 2022 | August 25, 2025 | EC-Council |
Skills:
Ethical hacking techniques such as threat vector identification, network scanning, OS detection, vulnerability analysis, system hacking, web app hacking, reconnaissance, Gaining Access, Enumeration, Maintaining Access and covering your tracks.
How to earn this badge?
---